How to make our own food for animals in order to cut our budget?
How to prevent the frequent deaths in young animals by developing their health naturally?
The Vetiver System (VS),whose main component is the use of the
Vetiver plant, is a system of
soil and
water conservation
that contributes to
infrastructure stabilization,

pollution control,

waste water treatment, mitigation and rehabilitation,

sediment control, prevention of storm damage, and to many other environmental protection applications. Similar to the Lemongrass plant, the Vetiver plant (Chrysopogon zizanioides
) is usually used in the tropics or semi-tropics and is planted in hedgerows forming then a very dense vegetative barrier both above and under the ground. Indeed, its deep, strong, fast-growing and finely structured root system reaches 3 to 4 metres in the very first year!
But its main advantage (for Sangob's food forest, at least) is its ability to restore and fix the Nitrogen in the soil. The Vetiver grass is very tolerant to PH levels varying from about pH 3 to pH 11; it also has a high tolerance to most heavy metals and is known to remove large quantities of excess nitrates, phosphates and farm chemicals from soils and waters.
We first heard about the VS and its numerous benefits at a workshop in one of our neighbouring organic farms (Mrs Pratum Suryia's). Khun Pratum told us about the "Land Development Department" (LDD), which is a governmental branch created under the initiative of H.M. the King of Thailand that promotes agro-organic techniques in order to help Thai farmers being more sustainable. At our first visit to the LDD, we received organic booster and insect repellent, documentation on how to run your farm the Green way and finally, an official paper entitling us to 4000 Vetiver plants; all this for free! The next day, we ended up in Baan Mae Taman (Mae Taeng) to collect our plants and spent the next few days, with the help of some volunteers, re-planting them into our forest. We decided to create our VS around three different purposes: The first one to prevent soil erosion at the edge of our land and our lake; the second one to improve the general quality of our soil due to its original high level of Nitrogen; and the last one to circle our vegetable gardens ensuring them a greater success in the future. We hope that within 2 to 3 years, the entire surface under our food forest will be completely filled with the VS's roots acting as a constant natural soil improver.
Three months have passed since we first planted our VS and some results can already be witnessed: combined with the generous rainy season we are having this year, all trees circled by Vetiver grass are showing new leaves, new branches and/or have grown significantly. The ground cover has also spread rapidly as the Vetiver helps turning the clay into good dirt. No maintenance is required except for once a year, before the rainy season, when we are supposed to cut the grass down to 15-25 cm long. When we cut the leaves for about 1metre, the roots cut themselves off for about the same length, which means that the roots "released" will fix the ground and bring organic matter deeper and deeper every year.
All we can hope is that our Vetiver System will bless Sangob and its food forest with a fertile future…
Sangob just came back from an extended weekend through Chiang Rai province, trying to discover and understand better both the coffee and tea growing processes as well as two outstanding ethnic groups: the Lahu and the Akha hill tribes.
We left Sangob towards the road 118 leading to Chiang Rai; our first destination was the "Suan Lahu" organic coffee farm, which is a 3years-old but fast-growing project run by Miss Carina, her husband and some of the Lahu people from "Doi Mod" village. We were welcome by JaKaTe and his brother Manop who took us first through the 80 Rai farm then gave us a detailed overview of the traditions and specificities of their people. Later in the afternoon, after a refreshing walk to the river, we learnt and practiced how to roast coffee. Depending on the desired taste, mild to strong roast, you just keep heating the beans longer until they eventually start popping-up. Once roasted, it is very important to cool the beans off as soon as possible to prevent them from losing their taste. What a smell! What a taste!
But "Suan Lahu" does much more than just growing delicious organic coffee. First of all, in the same way as Sangob, they are really involved in the community, trying to promote and preserve the local traditions and cultural events. Moreover, part of their benefits is directly put back into diverse projects, greatly contributing to the well being of the community. Also, one of their very interesting products is the "Civet coffee". The civet is a

nocturnal carnivore mammal with a barred and spotted coat and well-developed anal scent gland

, a bit similar to a wild cat, which eats the red coffee beans as they are ripe. In fact, they will only eat the external fresh part but not the actual bean.

So the bean will eventually be defecated. Picked up from the poo of the civet then cleaned, the bean gets an incredible taste granting Civet coffee the title of one of the best and most expensive coffee in the world. For the night, we decided to camp in their bamboo school. Yes, on top of it all, Jakate and his friends, or volunteers when visiting their homestay, also teach Lahu children for free every Sundays. About 40 kids come, on a weekly basis, to learn the Lahu language (which is exclusively a spoken language) or English, practice different agro-organic techniques, get free food, play games all together… It really stroke us how similar to our values "Suan Lahu" is envisioned and run thus we already discussed with Jakate about organising exchange programs, once in a while, with the students of "Suan Lahu" and Sangob's.
Something we are really looking forward to! The next day, we woke up in this incredible scenery, enjoyed coffee then painfully got ready to leave for our next destination, "Doi Mae Salong". From organic coffee grown by Lahu people, through one of those splendid and dramatic routes Thailand has to offer, we were to arrive in tea plantations grown by Akha and Chinese people in the highlands of the OTOP Royal Project village of Doi Mae Salong, 1800 metres above sea level. It felt like arriving in another country: Akha indigenous people and Chinese people; their respective languages, believes, traditions and architecture mixed together in the mists of such mystical landscape literally brought us into another dimension. We spent the night in a bamboo hut of an Akha family, witnessing the most incredible picture my eyes ever saw.
Early the next morning, in a blinding fog and heavy rain, up we went with the villagers picking up young tealeaves that will, later on, be dried, packed and sold down in the village. Back in the village, we attended a tea tasting: Jiagulan, Oolong, Puer, white tea, green tea, black tea, camomile, rose, jasmine… Most of them are now available at Sangob since we couldn't resist buying their delicious products and stimulating Fair Trade at the same time.
Harsh conditions, sharp landscape, yet the warmest people. It won't be long before we are back up there. Truly a "MUST SEE" in Thailand! On the way back to Sangob, we stopped at Thaton, Fang and Chiang Dao. Once again, a stunning loop that filled us with both traditional knowledge and an unforgettable cultural experience, which we are deeply thankful for.
Although not far in kilometres, those three villages located within our sub-district are quite difficult to reach due to the road condition. The mud-"road" leading to those villages is impractical for any engine heavier than a motorbike. It takes about an hour to reach Baan Eiak (10km), another 45 minutes to Baan Pa Den (6km) and finally another half an hour to Baan Pa Tek (3km). The lack of infrastructure and facilities is therefore blatant. With school buildings but no teachers, the children are obliged to use the one and only truck left (there used to be 2trucks but one got into an accident last month and is currently out of order) which will try bringing them down the mountain to the school in our village and then back up at the end of the day. But considering the extended rainy season we are having this year, it is very improbable for that truck to go further up than Baan Eiak; the kids from the two next villages being excluded from any education. And so it goes with access to health care, food and most services and resources.
In Baan Eiak, Sangob is already trying to set up "itinerant volunteer teachers' programs" providing the villagers with free Thai, English, Music, Art, Sport, Massage lessons… on a weekly basis, but we are also trying to establish a food forest and promoting organic agriculture, trying to encourage the use of traditional medicine and so on.
Following the positive contacts and reactions we are currently having in Baan Eiak, we decided to go and explore the further villages in order to identify other communities in need.
The first part of our fieldtrip was set in and around Baan Eiak. Our campground was the schoolyard and was the starting point of a very fun and exciting natural activity. To celebrate the birthday of one of our community member, we decided to tube the river down using inflatable tyres as floating devices. We let the river guide us for about three hours before we reached an isolated flower farm then drove back up to the village to enjoy a very simple but delicious meal, followed by organic fresh passion fruits picked up straight from the trees to guarantee our entire pleasure. The next day, our first destination was Baan Pa Den, which is a Karen hill tribe village. The red mud-road between Baan Eiak and Pa Den is, without a doubt, the hardest portion of the loop but is equally stunning. Honestly, one of the loveliest roads I ever rode since my arrival in Thailand. The sensation of "paradise lost in time" was highly reinforced by the warm welcome of the Karen people who opened their unique and simple lives for us to share. The same feeling was to be experienced at our next stop over in Baan Pa Tek, another Karen village which also hosts a Royal Project that grows organic coffee. Karen people's way of life is a great example of self-sustainability; probably depicting quite exactly how people used to live before Capitalism took over, for the only facility accessible to them is electricity! No schools, no hospitals, no shops, no running water, No phone lines… They only rely on what the forest has to offer them depending on the season. We immediately saw this as a future opportunity to get to know those villagers better, learn about their lifestyle and traditions as well as developing projects together aiming at a greater and easier comprehensive self-sustainability. We sincerely hope that we will be able to collaborate with those incredible people very soon because our hearts were filled with sadness when the moment came to drive back to Sangob, with a last stop at "Mok Fa" waterfall before completing this amazing loop back in time, in such a perfectly preserved environment which we hope will remain unstained as long as possible…
Recently, just before the Rain Retreat which Buddhists call "Wan Wisakabucha", Sangob took a break for a couple of days to the south of northeast Thailand. Our destination was the province that has been influenced the most by the Khmer kingdom and its rich culture. Surin has a specific character and atmosphere, blending the Thai population in ancient Khmer architecture and traditions such as temples, markets, handicrafts, silk fabric… and the famous elephants that can be seen everywhere around town, adding a unique touch to this cross-cultural patchwork.
Sangob and friends stayed at the house of their Thai family and were joined later by other family members. We arrived in the morning and took a tuk-tuk to a huge reservoir to relax for the entire afternoon after such a long trip on the bus. On the way back to town, we went to visit our friend who was just ordained as a monk at a forest temple out of town.
The next day, we decided to go visit "Baan ThaSwang," OTOP Silk village where Khmer villagers gather everyday in order to preserve their special silk weaving techniques. One of the places that particularly attracted our attention was set in a lush garden where 4 women were working together with only one wooden weaving machine that attaches more than 700 threads of both silk and gold. They are only able to produce 5 centimetres each day, which means it takes them about 3months to complete a 2metres-long piece of cloth. On the road to the silk village, we were very lucky to witness a local event: not far towards town, next to rice fields, many people paraded and danced on the street with colourful costumes, flowers, fruits, big candles, a decorated Buddha statue on a truck, and live Khmer music on another truck. It was unexpected to see so many people dancing their feet-off with smiles on their faces celebrating that special day – it was a "Wan Wisakabucha" totally different from the ones I already attended in the Chiang Mai area. Truly unique!
Later that afternoon, we went to the "ISAAN/ASEAN fair trade 2011" where we tasted and discovered all kind of products from Southeast Asia. Organic farmers, healing practitioners, musicians, craftsmen and so on, from Cambodia, Laos, China, Vietnam and Thailand were representing their own goods and traditions. A real bliss for our eyes/ears/nose/tongue (not so much for our wallets though)!
After dinner (you can't go wrong with an Isaan barbeque), we noticed some elephants wandering around with their mahouts. Everywhere we went we saw elephants in the middle of traffic being photographed or fed by elephant lovers and tourists alike. It is still hard for us to understand why they were looking for food in town instead of a big forest???
The next day, by the elephant monument, a major Buddhist event was held on the occasion of "Wan Wisakabucha", – monks were riding on painted elephants while lay people would come and offer food and flowers to bless them through their rain retreat journey; it would have been a nice experience to experience this aspect of Khmer culture, but we missed that event because we had to catch the bus back to Mae Taeng. Needless to say we are looking forward to seeing it during one of our next visits…
Sangob is proud to introduce you to a group of amazing women from our village (Baan San Payang), they call themselves the "New Hope for Life Centre". These women, who meet several times a month, are trying to enhance their general knowledge and bring joy into their lives, and, most importantly, into the many lives of those in need. On various topics events such as cooking gatherings, fruit carving, bamboo crafting, etc.… are regularly organised. Earlier this month, we had the chance to join them in a 10-day traditional massage course that was entirely free. From the 04th to the 14th of July, for 5hours a day, Kru Phin, a certified Teacher from Mae Taeng, held teaching and practice sessions on traditional Thai massage ("Jap Sen"), Oil massage and Foot massage. This program was held at the "New Hope for Life centre" but was actually organised and funded but the San Payang vocational school which is a government organisation from the village that tries to help people from villages deep in the mountains make a more decent living by sending mobile barbers, teachers, libraries, medical support, etc.… to the most remote areas in our district. Thanks to the school, about 20 Thai women and some of our community members are now learning massage techniques in a very "Sabai-Sabai" atmosphere, and will, by the end of the course, get an official certificate for the reasonable price of 35Baht. But the NHL Centre does much more than this to contribute to the well being of their community. For example, they are very active in helping HIV-infected people by providing them with mental and medical support; they also work on a campaign to promote breast-feeding; and organise regular Health Checks.
I couldn't think of a better name for their initiative for they are truly bringing new hope to the community!
Needless to say, we feel honoured to be collaborating with such wonderfully genuine people on such critical issues. From now on, Sangob opens up its free English and Music lessons to those women who are so motivated by learning, and will in the future co-organise many projects with the NHL Centre. We have already discussed Lanna traditional music and dance workshops and the interest seemed to be unanimous…
We will keep you posted on our blog about any event that might occur and already welcome any of you to join us when they take place.
A Food Forest - the permaculture way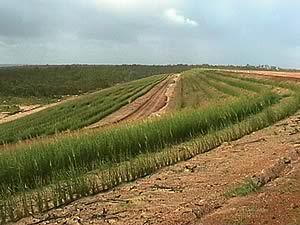 "Sangob"
is in the process of establishing a Food Forest on its land that, over time, will be fully permanent filled with fruits, vegetables and herbs and which will entirely take care of its own. Indeed, by respecting and reproducing the cycles of nature, very little human help is needed to maintain our forest.
Another advantage of a forest is Diversity and its numerous benefits, opposed to Monocultures or
"Cash cultures"
. We started with 90% of supportive trees and only 10% of productive trees. A year and a half later, we already reached a 70 – 30% quota. Within 8 to 10 years, we aim at reversing the original ratio to 10-90%. At the same time, we are using local organic techniques (some traditional, some revolutionary) to improve our soil, like the
"
Vetiver grass"
, to protect our trees from insects and diseases, or to boost or vegetables. But food is not the only aspect to take into account if we want to achieve comprehensive sustainability. Other needs such as medicine, education, spirituality, shelter, Art… must be met!
Envisioning The Sangob Food Forest by Antoine Garth
When I arrived at Sangob at the end of May, I was amazed at how

abundantly everything was growing

and

how lush and beautiful the land was looking

. Laurent and I spent a lot of time talking about the direction we wanted to take Sangob, especially in the area of sustainability and organic gardening.
Thailand is

an agricultural nation

, so most of the examples around us were organic farms, big and small. While we were greatly impressed by the methods we were observing by these farmers, it was clear to us that we were not farmers, and that we should be looking in another direction.
I stumbled across the concept of a food forest by accident. I definitely had a

"Eureka"

moment as I started gathering information, and remembered Laurent mentioning that, when he initially started designing and planting a year ago, he wanted to make it feel as much like a forest as possible.
We are now at the beginning stages of consciously establishing the

Sangob Food Forest

. To that end, we have been greatly influenced by Geoff Lawton, and his "Establishing a Food Forest the Permaculture Way". Geoff Lawton is an amazing teacher with a wealth of knowledge on all aspects of Permaculture and organic gardening. The video gives an exhaustive overview of the subject matter, and is highly engaging.
Here are some more resources on Food Forests: